Take your pillow robot in your arms, breathe and … sleep
The pillow robot creates a pleasant atmosphere for sleep and turns insomnia into sweet dreams. Its light movements and calm tones mimic human breathing. Subconsciously, your breathing adjusts itself and thus you sleep free from circulating thoughts and worries.
Sleep companion according to your needs
The pillow robot works without any drugs or side effects. Hugging the robot will make you feel safe and help you fall asleep naturally each night. The Somnox app enables you to adjust the sounds and movements to your mood and sleep situation: natural tones, music for meditation or sleep programs for the night or nap during the day.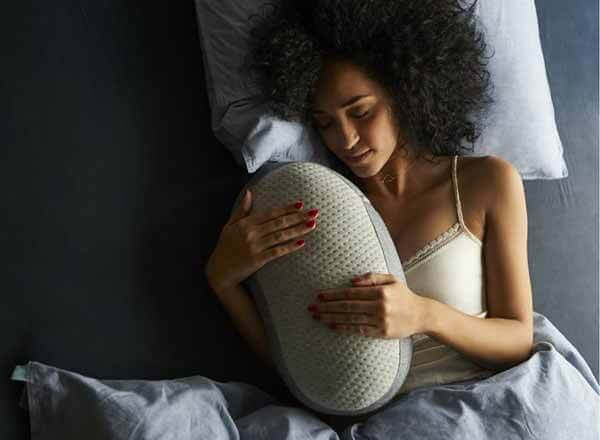 Product details
The pillow robot helps you fall asleep faster, get enough sleep through the night, and wake up more relaxed.
With the help of rhythmic movements and sounds, it imitates human breathing and guides the person to sleep in a natural way.
For people with sleep problems, long sleep periods, and restless nights. Using the accompanying app, you can adjust the pillow robot according to individual wishes and select sleep programs, music and movements.
The pillow robot with sophisticated technology inside and high-quality pillowcase for changing and washing.
How does it work
The pillow robot works according to the natural principle that we already know from the mother's womb. As you embrace the pillow robot, the body feels the movements and sounds of the robot, which are similar to human breathing. The body and brain absorb this information and automatically adapt to their surroundings. The breathing becomes calmer, the body relaxes and it is easier to fall asleep. Embracing the pillow robot also gives you a sense of security.