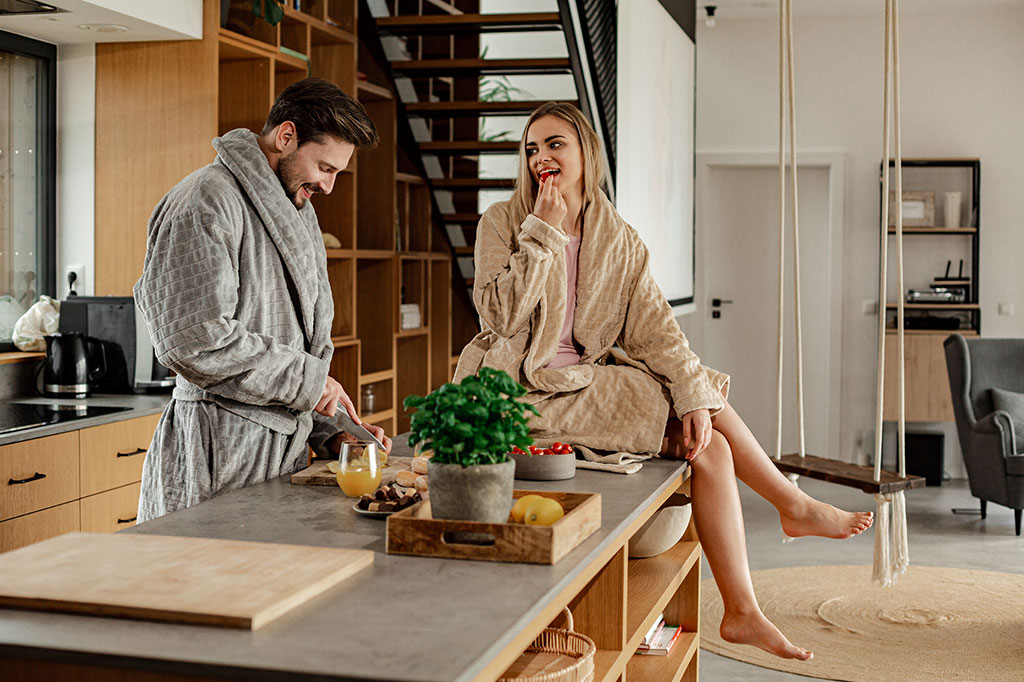 Working from home was probably a dream come true for you at one time. Who of us has not dreamed of relaxed mornings and not being in a rush or having the need to commute to work? The thought of drinking coffee from your favourite mug or doing household chores during breaks was extremely attractive. The pandemic effectively locked us in our homes, but after a year of working in the so-called home office, most of us have experienced the disadvantages of this form of work. No wonder! For a long time, many of us have been working from home with a partner and children who learn remotely. This situation has become difficult and burdensome. It has also created a lot of negative emotions, stress, and conflicts. How can we fix it?
Take care of your body
Recent studies indicate that there are advantages and disadvantages to the home office. Apart from the definite advantages, such as being able to organize work time or not having to move, many participants in the study highlighted the disadvantages of this system. We live in constant stress and anxiety related to the prolonged unstable situation in the labour market. Many of us worry about earnings, employment, and the future. Unfortunately, none of us knows what tomorrow will bring. The constant state of tension and stress affects our health; we get headaches, get nervous, sleep badly, and feel depressed. It is vital to take care of your body and mental state to survive these difficult times. Therefore, proper sleep is especially important. Make sure you have a suitable mattress, duvet, and pillow. Relax before going to bed, turn off the TV and telephone, and give yourself a long, peaceful rest. If you have problems falling asleep, a weighted blanket comes in handy, which will not only help you fall asleep but also improve the quality of your sleep. In the morning, you will be rested and able to see your problems from a different perspective.
Proper posture
Nobody else provides us with suitable conditions for work at home. Do you have a professional desk and ergonomic chair? Do you work in a separate room away from distractions? Many people answer these questions with a resounding no. Unfortunately, we usually work in bad conditions. A laptop on our lap, a low desk, table, or chair causes us to bend over and not take care of proper posture. As a consequence, we spend many hours bent over, which causes tension in the shoulder area and pain in the spine, resulting in habitual bad posture. In other words – we suffer. Not only mentally but also physically. Stress related to work, children's education, technical problems, fear of the uncertain labour market – all this means that we struggle with constant headaches, fatigue, and other somatic symptoms. What can you do to help your body? One way to reduce pain is a set of products that are suitable when working remotely with an unsuitable desk or chair.
A must-have kit!
The brilliant trio is a weighted cushion, sleeping mask, and collar. Why this trio? A weighted collar will allow you to maintain proper posture and avoid pain in the shoulders and back. Put it on while working in front of the computer, and you will immediately adopt the right posture. In addition, light pressure on the shoulder muscles will relax you.
The weighted sleeping mask will help you fight the headache that occurs with the accumulation of stress experienced during the day. It is also a great help when falling asleep. It will calm you down, soothe your thoughts, and give you a feeling of incredible peace and relaxation after a day full of sounds, stress, and constant effort to concentrate.
It is complemented by a weighted cushion that affects selected parts of the body. Blood circulation deteriorates during prolonged sedentary work. Often, legs swell, or lower limbs start to hurt. Placing the weighted cushion on your knees will create gentle pressure that stimulates muscles and improves concentration. This option is a great solution when you feel that your efficiency is dropping.
Breaks!
Remember that you are the master of your time and can organize your duties yourself. Plan important and urgent matters for the first part of the day because our body's efficiency drops around 1 p.m. According to our biological clock, the body will then demand rest. We usually drink coffee, but it is worth taking a short, 15-minute nap during this time. Try it! It may seem irrelevant, but it does give you a "kick" for the rest of the day! Be sure to fall asleep under a gravity blanket or wear a sleeping mask. Satisfaction guaranteed!