European product
Our products are entirely made in Europe, only from certified materials, with respect to the principles of sustainable production.
Antiallergic materials
All materials used in the production of our products are 100% hypoallergenic.
Safe and convenient shopping
We Trusted Shop certified which means, that shopping in our store is completely safe. Feel free to check our customers' reviews.
Our weighted headband is a great quality product that can be used by women and men. It is made of high-quality fleece and velvet, which makes it extremely pleasant to the touch. The glass micro-bead filling of the band has a relaxing effect and creates a feeling of pleasant gentle pressure. The headband has many uses, you can wear it during the day, but you can also use it as a sleep aid.
Using of the headband has a calming effect. It creates a blissful sense of relaxation. It is a product recommended for people working under pressure, struggling with stress as well as for people working many hours in front of the computer screen.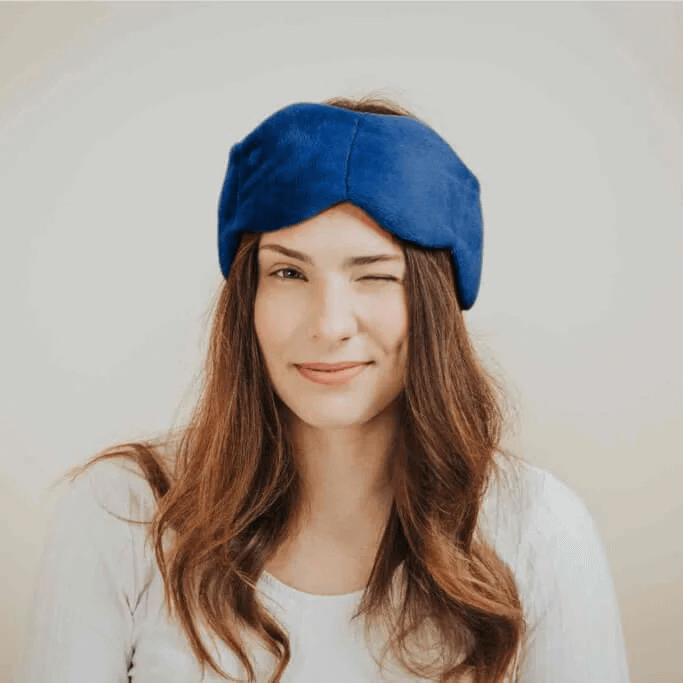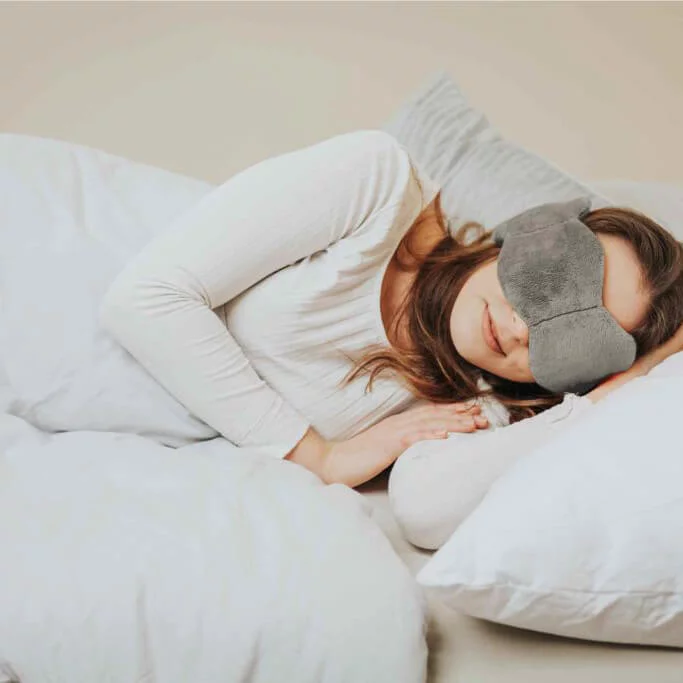 Our weighted headband can be used in many ways and address a range of health problems. It makes it easier to fall asleep, making it recommended for people struggling with sleep problems. Pleasant material feels wonderful on your skin and the gentle pressure helps calm down disturbing thoughts, which allows you to relax and enjoy a long, peaceful sleep.
People struggling with migraines or frequent, persistent throbbing headaches can greatly benefit from using it as well. Wearing it during the day allows you to reduce the level of pain in your head and may even support the treatment of persistent ailments.
The weighted headband can also improve the quality of our lives – it is recommended for people who work in noise or live in the center of large cities and are exposed to endless auditory stimuli. It allows you to calm down and take a break from excess stimuli.
Stimulation of proprioception in the area of ​​the skull has a therapeutic effect on our entire nervous system. It also allows our eyes to relax, and sight is undoubtedly an overused sense in today's world. It is the perfect aid for all those of you, who spend most of their time in front of the computer screen.
One cannot forget about another advantage of this unique product – it is made of the best quality materials, sewn by hand, and therefore resulting in premium quality and additionally esthetically pleasing. Therefore it is not only a therapeutic aid, but also a lovely accessory.
Key Information
Product details
The upper part is made of soft plush, while the lower part is made of velvet.
As in the case of weighted blankets, the filling is made of hypoallergenic glass microbeads and insulation. Additionally, there is embroidery on one side.
The headband has a hole so that it can be conveniently tied around the head.
It is a universal product, it can be used both on the forehead and on the eyes.
Handmade in Europe.
Size and weight
Length: 73cm
Width: 10cm
Weight: approx 300g
How do I clean the weighted headband?
The weighted band can be easily washed in the washing machine.
The washing temperature should not exceed 30°C.
Do not spin dry, or select a spin program at low speed.
Do not tumble dry. After washing, hang up or spread out and leave until dry.
Do not iron
Shipping and payment information
Transport by UPS courier service
1-2 working days
Production time
5-10 working days
In our online store you can conveniently pay via:
Pay-Pal Express
Debit Card