European product
Our products are entirely made in Europe, only from certified materials, with respect to the principles of sustainable production.
Antiallergic materials
All materials used in the production of our products are 100% hypoallergenic.
Safe and convenient shopping
We Trusted Shop certified which means, that shopping in our store is completely safe. Feel free to check our customers' reviews.
Pleasant to the touch weighted robe for the perfect start or end of the day. It has a similar effect to a weighted blanket, except that you can use it all day long. It can be successfully used interchangeably with a weighted blanket, ensuring relaxation also during sleep.
When worn, it creates a slight pressure on the body, ensuring peace and relaxation. It provides better sleep and prevents stress and anxiety attacks. The appropriate cut, large collar and belt make the robe very comfortable to wear and fit well to the body.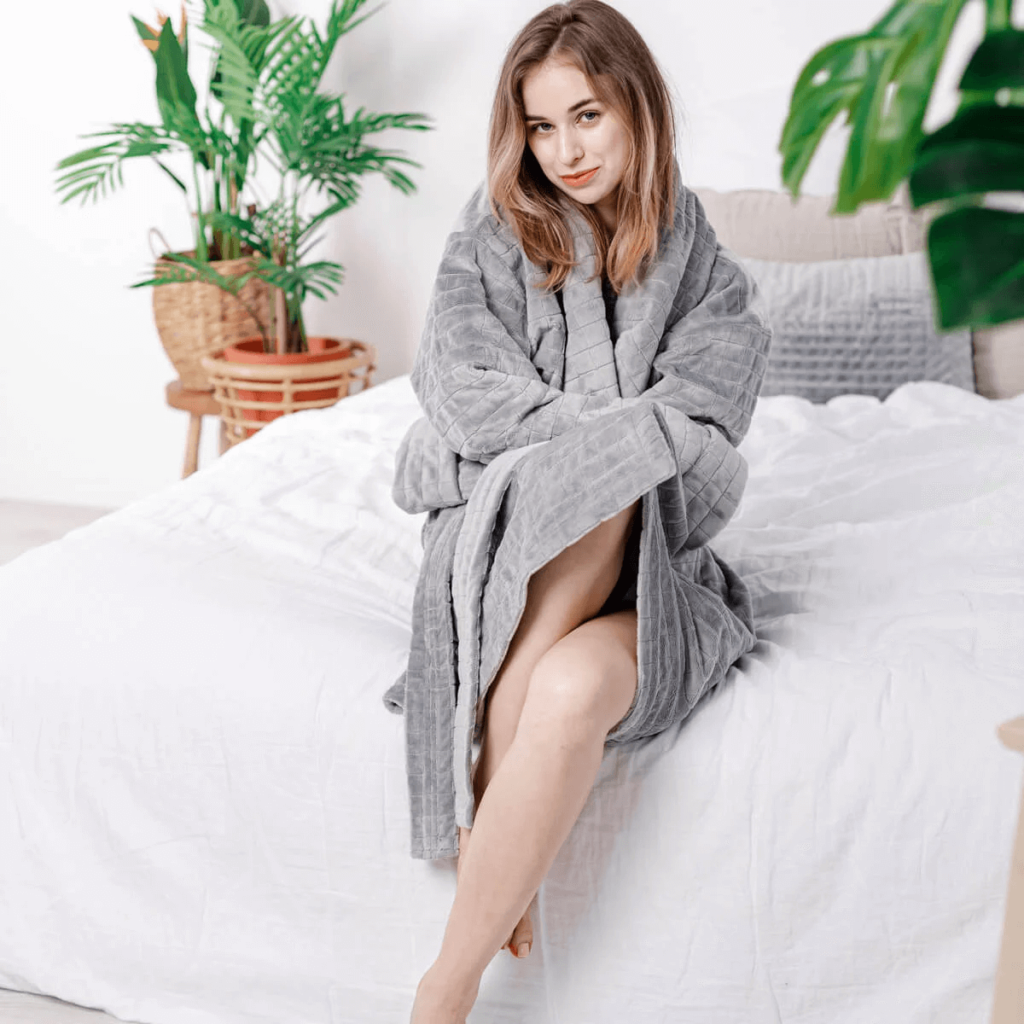 It is great for sensory therapy. Its load is located in the collar, which can be quickly removed if necessary, so we can successfully use it as an ordinary robe or bathrobe.
It is hand-sawn, made of high-quality plush and cotton, which gives a pleasant feeling on the skin. The filling consists of glass microspheres that are hypoallergenic.
Comes with a comfortable collar and a belt to tie at the waist.
Key Information
Product details
Made of 60% cotton and 40% plush
You can choose out of 3 color options
Available in 3 weight options
Weighted with hypoallergenic glass microbeads located in the collar
The set includes a binding strap and a cover for the weighted insert
There is a possibility of removing the insert, so you can use it as a regular robe
Handmade in Europe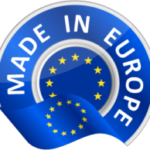 Size and weight
The bathrobe is available in three weight options:

Size S (1kg) – for people weighing 30-69 kg

Size M (1.5kg) – for people weighing 70-99 kg

Size L (2kg) – for people weighing over 100 kg
The structure of a weighted robe
The robe is made on the outside of soft fleece, while the inside is trimmed with 100% cotton.
The weighted insert of the robe is filled with hypoallergenic glass microbeads, which give it the necessary weight.
The robe's weight is in its collar. The insert consists of two weighted elements, fastened with a zipper to each other. They are then also fastened to the collar with a zipper.
Thanks to the easy removal of the weighted elements, the weighted robe can also be used as a bathrobe or a regular robe.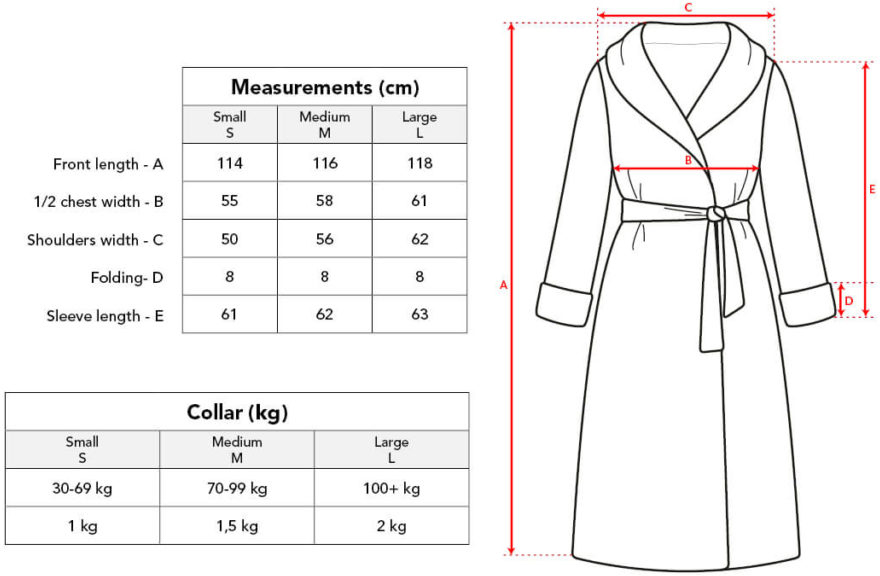 How do I clean the weighted robe?
After removing the weighted insert from the collar, the robe can be washed at a temperature not exceeding 30°C.
Do not spin dry, or select a spin program at low speed.
After washing, hang up or spread out and leave until dry.
Do not iron.
Shipping and payment information
Transport by UPS courier service
1-2 working days
Production time
5-10 working days
In our online store you can conveniently pay via:
Pay-Pal Express
Debit Card